The UK Gay Pride Marching Boys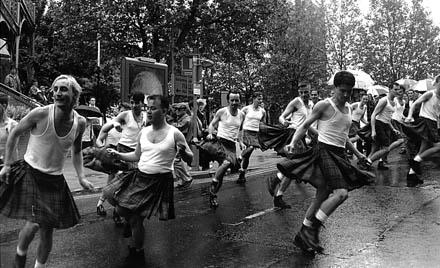 The What?
The Marching Boys are an informal dance troupe who have danced in London's Gay & Lesbian Pride March, and occasionally at other Pride events up and down the country, since 1992. The line-up varies considerably from year to year, and even the name is hotly debated, but there are a few threads of continuity, notably
your host
, who started it all, and
our choreographer
, who gave it legs.
A History Lesson
Far back in the mists of ancient time, when dinosaurs roamed the Earth and mobile phones were the size of a transit van, London played host to an annual demonstration of homosexual solidarity that actually meant something...
The Years
| | | | |
| --- | --- | --- | --- |
| 1992 | 1993 | 1994 | 1995 |
| 1996 | 1998 | 1999 | 2000 |
| 2002 | 2003 | 2004 | 2005 |
Gissa Job, I Can Do Tha'
If you want to dance with us, and will be available to rehearse in London on weekends and evenings in the two months before Pride, please
get in touch
.
The Marching Boys are an inclusive group and we certainly don't discriminate on the grounds of race, age or (ahem) dancing ability. Gender is a tricky one -- we aren't actively against women participating, but at the same time we do want to make a statement of same-sex relations, and so far we've never had enough interested dykes (read: perhaps two in over a decade) to be able to structure a routine around. But we'd be happy to hear from interested women, or indeed to give any help we can regarding this stuff to prospective Marching Girls groups.
Although we're all for integration in general, we don't take straight people in the group, however gay-friendly they may be. It is gay pride after all. If you feel excluded by this, perhaps you should re-evaluate your expectations -- or your sexual orientation?